Long Island Wineries
Osprey's Dominion Vineyards
44075 Main Road, Rte. 25
Peconic, NY 11958
Phone: 631-765-6188
www.ospreysdominion.com
winemkr@ospreysdominion.com

Osprey's Dominion carries a number of award-winning wines, including their reserve Merlot and Cabernet Sauvignon. The New York winery and vineyard is a popular place for events and special occasions, such as weddings, and the owners regularly hold live music events throughout the warmer months. Osprey's is open seven days a week from 11am to 5pm for tours and tastings. Large groups should call ahead for reservations.

Clovis Point
1935 Main Road
Jamesport, NY 11947
Phone: 631 722 4222
www.clovispointwines.com
info@clovispointwines.com

The partners of the New York winery Clovis Point purchased the land in 2001 and have since created distinctive wines using the knowledge and expertise of their winemaker, John Leo. In 2007, they renovated the rustic potato barn that sat on their land into a beautiful tasting room. This vineyard has received a lot of media coverage for their beautiful land and award-winning wines, including stories in the New York Times, Newsday and Wine Enthusiast. Their tasting room is open every day but Tuesday.
Pellegrini Vineyards
23005 Route 25
Cutchogue, NY 11935
Phone: 631-734-4111
www.pellegrinivineyards.com
wine@pellegrinivineyards.com

Pelligrini Vineyards is located in Cutchogue, the sunniest town in New York's wine region. The temperate conditions parallel those of the South of France. The resulting grapes are robust and healthy -- one reason Pelligrini has won so many awards over the years. Pelligrini is by far one of the most beautiful vineyards in the Long Island region, and it's a wonderful place for weddings. They offer private tastings for large groups, which are $25 per person at the time of this writing.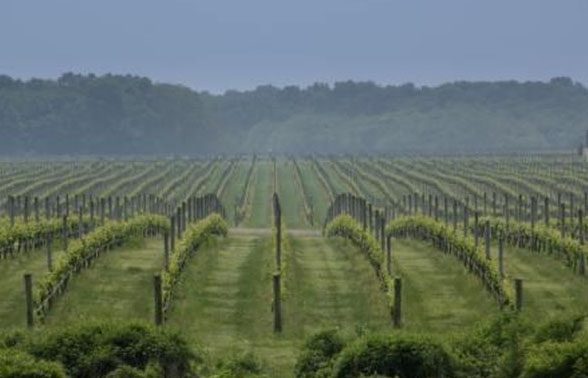 Macari Vineyards & Winery
150 Bergen Ave.
Mattituck, NY 11952
Phone: 631-298-0100
www.macariwines.com
macari@peconic.net

The Macari Family has owned their 500 acre waterfront estate for over 50 years, and they've been making wine since 1995. Joseph Macari, Jr. is one of Long Island's pioneers in leading a movement toward organic and sustainable farming. Macari Vineyards has an architecturally stunning tasting room and beautiful land, which makes it a perfect destination if you'd like a scenic view of New York's winery region. The tasting room and outdoor picnic area are open daily, though large groups should make advance reservations.